07. 27, 2021
There are many benefits to using temporary fencing. In some cases, these fences are necessary to protect you from liability issues and eliminate many of the concerns you may face. When you need temporary fencing, you only need to look to Huaguang Wire Mesh to ensure that all of your fencing-related needs are met. Here are a few things you should know about the benefits of temporary fencing:

Keeping your site secure
Temporary fences are often used on construction sites. These fences help keep the site secure and help prevent access to the site. This is essential because you may be held responsible if someone is injured on site. By making sure you have a temporary fence around the site, you will be able to make it safer and more secure. Security is usually an important part of fencing, which is one of the benefits of temporary fencing.

Limit vandalism
Vandalism is extremely common on new construction sites. In many cases, a little deterrence is all that is needed to prevent this from happening. By installing temporary fencing, you can make it more difficult for potential vandals to enter the area. This can reduce the likelihood of vandalism on your construction site. Limiting vandalism can also save you a lot of money throughout your construction project because you won't have to invest resources to fix the vandalism.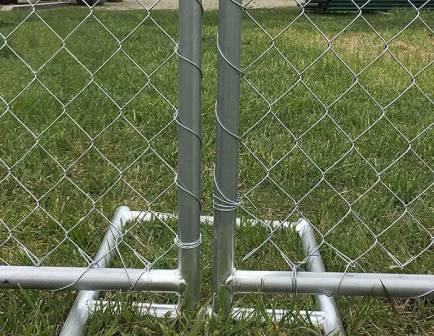 Temporary Fences
Crowd Control
For certain events, it is important to ensure that you can effectively control the crowd. Crowd control helps ensure that your event runs smoothly and also provides a level of protection for your guests. With proper temporary fencing, you will be able to provide many benefits to your temporary enclosure.

Keeping children safe
Temporary Fences are not only used on construction sites. They can also be used in homes to help keep children safe. If you have a pool, deck or other potentially dangerous area, you need to make sure that you have proper fencing to keep children out of the area. This often helps keep your children safe while you are at home.
Cost-effective
Permanent fencing can easily become expensive. There are many benefits to be gained through this type of fencing, but they are not completely affordable for temporary projects. As you become familiar with the various options available, you will be able to make the right decisions to improve your particular project.

Common Uses for Temporary Fencing
There are many places where temporary fences are used. These fences are very commonly used on construction sites to prevent individuals from entering your construction site and getting injured. They can also protect your equipment at the construction site. Tourist fairs also use temporary fencing to separate areas and provide crowd control. Temporary fencing can be used for remodeling or landscaping projects to provide additional protection. Temporary fencing is also often utilized for tournaments and private parties to minimize the problems that can occur during these events. These are just a few of the most common uses for temporary fencing.

Temporary fencing can be used for many different purposes. When you implement the right fence to meet your needs, you can ensure a safer environment. We offer temporary fencing services to ensure that your site remains in the best possible condition. We also offer Chain Link Fencing, please feel free to contact us if you need